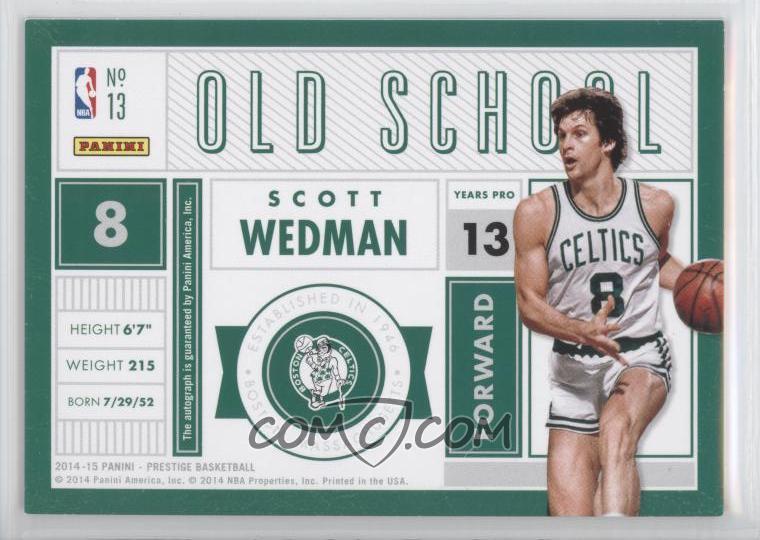 February 14, 2004 Saturday
KANSAS CITY - He was the long-range assassin earning two championship rings with the Boston
Celtics
during their 1983-84 and 1985-86 championship seasons.
These days, Scott
Wedman
is still trying to earn championship rings, but now it is for the Kansas City Knights of the American Basketball Association.
A first-year coach for the Knights,
Wedman
currently has Kansas City in second place with a 18-9 record.
"I'm having the time of my life," said
Wedman
. "I am just so appreciative of (the players) ability and their willingness to work hard. These are guys who may or may not make it to the NBA, but this is not a league for the weak of heart. Every game is competitive.
"We have some players this year who have had some impressive games. We are pretty proud of that. We are hoping we can keep this team together for another year or two and we will really have quite a team. Just like Boston does it I think loyalty goes a long way. That's one thing a lot of us learned when we were with Boston."
Ironically,
Wedman
is right back where he started his professional basketball career.
Long before his
Celtics
playing days,
Wedman
started his NBA career with the Kansas City Kings (now Sacramento Kings) playing from 1974 through 1981. While playing for the Kings,
Wedman
was a two-time All Star before moving on to the Cleveland Cavaliers.
He played for the Cavaliers for one season before being traded to the
Celtics
in January 1983 for Darren Tillis, a first-round draft pick, and cash.
"I was totally excited when I got traded to the
Celtics
," said
Wedman
. "I will never forget when I came home and there were 11 or 12 messages on my answering machine. It was family, my agent, all trying to get a hold of me. I was elated because I was having a tough time in Cleveland.
"Then reality set in when I got to Boston and I didn't play a minute in my first game. I was sitting there behind Larry Bird and it was the first time in my career that I hadn't started, but I was ready for it. You forget about scoring averages and it's about what can I do to help the team win.
"Larry, he put me through the ringer the first six months and it was probably the toughest time of my life basketball-wise, but I think Larry and the rest of the team made me a better player and stronger mentally."
There is one moment that sticks out in
Wedman's
mind from when he first took the floor in a
Celtics
uniform. It was his first introduction to the Boston Garden and the fans.
"One of things I will never forget was when we were on defense and my man was out on the perimeter. I was in a little bit of a gray area whether I should box out or release on the break and I chose to release on the break. My man didn't get the ball and in fact we got the ball, but I heard a fan yell from the seats 'Hey
Wedman
, box your man out.'
"The fans are well-educated and well-informed. They are very astute fans. I always felt the fans in Boston helped elevate the level of play as much as anything."
Since retiring from the
Celtics
in 1987, Wedmen has resided in Kansas City with Kim, his wife of 27 years. They do not have any children, but have many nieces and nephews.
He majored in real estate while playing basketball at Colorado and has since started his own real estate company (S&S Enterprises). He has a partner and just hired a part-time assistant to help him get through the ABA season, which runs from October through March.
He also runs summer basketball camps and has joined a friend restoring classic and specialty automobiles.
"My friend has an auto body shop and between the two of us we look for deals on cars that have been wrecked or we buy exotic automobiles we think somebody is going to pay a premium for," said
Wedman
. "It's a hobby. I like sports cars, but I don't want to own one full-time so I own them for a while then sell them."
But for now his main focus is on his new coaching career.
"I am enjoying it a lot," said
Wedman
. "If an NBA team had a stint here I think (coaching is) something I would have gotten into a lot earlier."
If he is as successful coaching as he was playing, then the Knights will be earning a few championship rings of their own very soon.