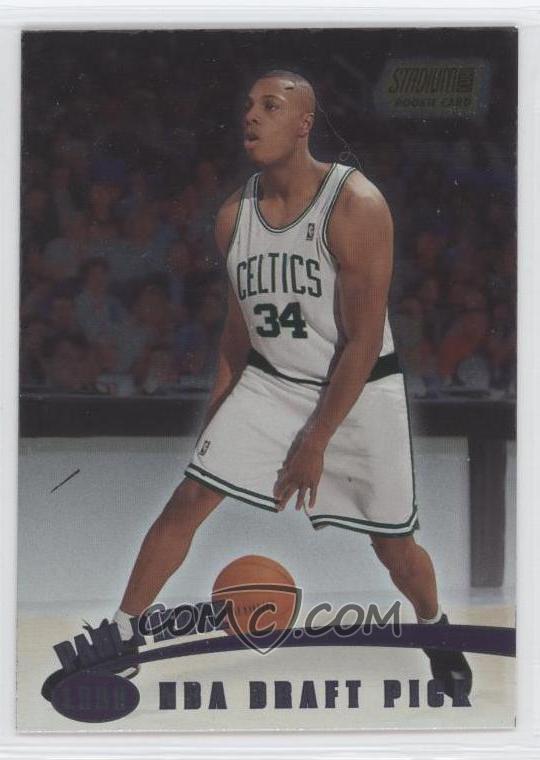 March

8, 1999
TORONTO - Two of the league's top rookies were on display yesterday at Air Canada Centre. The result? Well, there are now fans in two cities - here and Cleveland - who must be wondering what the Paul Pierce fuss is all about.
Pierce wasn't nearly as brutal as he was a week ago in Cleveland, when he went 0 for 11 from the field and scored 2 points. But he was 3 for 11 and scored just 7 points yesterday, his second single-digit game of the season.
"They played me well," said Pierce, who had only 2 points midway through the fourth quarter. "Teams are starting to notice that I can score, so they're double-teaming me and I have to adjust."
Coach Rick Pitino is asking Pierce to work harder to get open and likens his rookie to a batter having early-season success. Then the pitchers get to know him a little better and things change.
Asked about Pierce's game, Pitino said, "It wasn't up to his usual excellence. We're trying to get him to do different things."
Said Toronto coach Butch Carter, "[ Pierce] has developed a pattern of doing things from the left side. We knew he would spin to the left." The Cavaliers also had success stopping Pierce from one of his favorite moves, the baseline spin.
As for Vince Carter, well, teammate Dee Brown pointed to the Raptors rookie and said, flatly, "There's the next Dominique [ Wilkins] ." Carter had 26 points, 18 coming in the first half, 3 on a spectacular drive and dunk past Walter McCarty, who also fouled him.
"It's more important to me that we won the game," said the rook, who was 9 for 18 from the field and 8 for 9 from the line. He also had two blocked shots, as did Pierce.
"He's great for the team, the city, and he's great in this arena," said Butch Carter, who nevertheless noted that Vince Carter didn't have a defensive rebound. "It's my job to love him and to kick him."
Collecting calls
Pitino said before the game that the
Celtics
are getting calls as the trade deadline approaches (Thursday at 6 p.m. EST). "But we're not hearing anything that makes us significantly better or that we're interested in." He said most of the calls were for Ron Mercer, mainly because everyone realizes Pierce isn't going anywhere and Antoine Walker will be a base-year player making it hard to move him. After the game, Pitino said, "There are a lot of good things about this basketball team. But there are a lot of weaknesses that have to be addressed. We won't panic. But on the other hand, we realize we won't go very far and do very many things." . . . Eric Riley did not play in the first half, was the first sub off the bench in the second half, but played only five minutes . . . Walker and Charles Oakley picked up dual technicals in the fourth quarter after a foul. Each one waved the other one off in mock disgust, but that's as far as it went . . . Pitino substituted his "Bomb Squad" en masse with 2:32 left in the first quarter and Boston trailing, 18-15. It, well, bombed. The group was outscored, 5-1, and did not force a turnover, which is its raison d'etre. Toronto forced two turnovers in that same span . . . Mercer made his first 3-pointer of the season in his second attempt of the season. The Raptors were 1 for 10 from international waters, with old friend Brown making the only one . . . Why Walker is hard to read: He went 4 for 11 from the line, but 11 for 16 from the field and 3 for 4 from international waters.