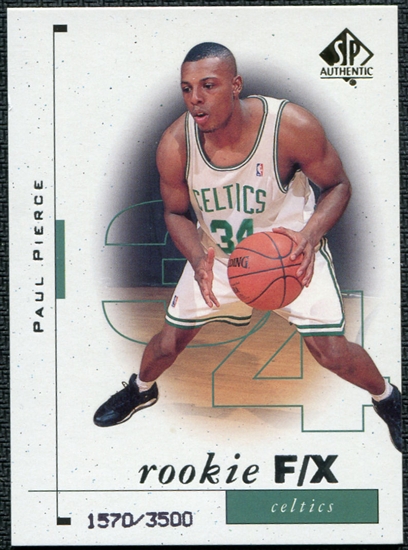 March

9, 1999
CHARLOTTE, N.C. - Rick Pitino has a simple request for Paul Pierce: Don't lose the fire.
The
Celtics
coach saw a decidedly ember-less Pierce Sunday in Toronto and does not want to see one tonight against the Hornets.
Pitino already has called on his trophy rookie to be more active on offense in terms of getting open, recognizing double teams, and being less predictable. But all of that boils down to one simple matter, the coach said: Pierce is Pierce when the fire is burning.
"The key to Paul's greatness is his intensity level," Pitino said yesterday after a team workout at the Charlotte Coliseum. "Even in college, he had a tendency to float a little. Paul has to be intense. If he's intense, he's the best rookie in the league and he's a future great one. But if he loses his intensity, he loses his game and he's not extraordinary any longer."
Pierce had only 7 points in the loss at Toronto, his second single-digit output of the season. He was outplayed and outscored by Raptor frequent-flyer rookie Vince Carter, who had 26 points. Pierce said he knows he has to adjust to things that now are being taken away from him, such as the baseline drive, one of his favorites.
"He has to learn to go middle instead of baseline," Pitino said. "And he has to be like [ Ron] Mercer and catch the ball in a triple-threat position [ pass, shoot, drive] . Now, he catches it standing up."
And, if you've paid extra close attention, you may have noticed that Pierce is favoring underhand scoops when he drives down the middle. Pitino would prefer that Pierce keep the ball and go strong, just like Carter.
Guarding Mercer
Pitino said there was nothing going on with trade talk. Mercer continues to be the most sought
Celtic,
but Pitino does not want to even think about moving him. "I've got to be careful," he said. "One wrong move hurts what we have. If I make the wrong move, we could be dead." That must mean the Will Perdue rumors are just that . . . Charles Oakley, a longtime Pitino favorite, had these kind words for the
Celtics
after Toronto's win: "We can't be happy beating a team like that." . . . Pierce is wearing "R.L. No.45" on his sneakers in honor of injured former teammate Raef LaFrentz . . . Eric Riley will get a start at center tonight, and Pitino said he's inclined to let the big guy stay in the game and run the floor. Riley has not played more than 12 minutes in any of the last six games . . . The Hornets haven't played since Friday. Derrick Coleman, who has a sprained right foot and missed the loss to Washington that night, is listed as questionable.