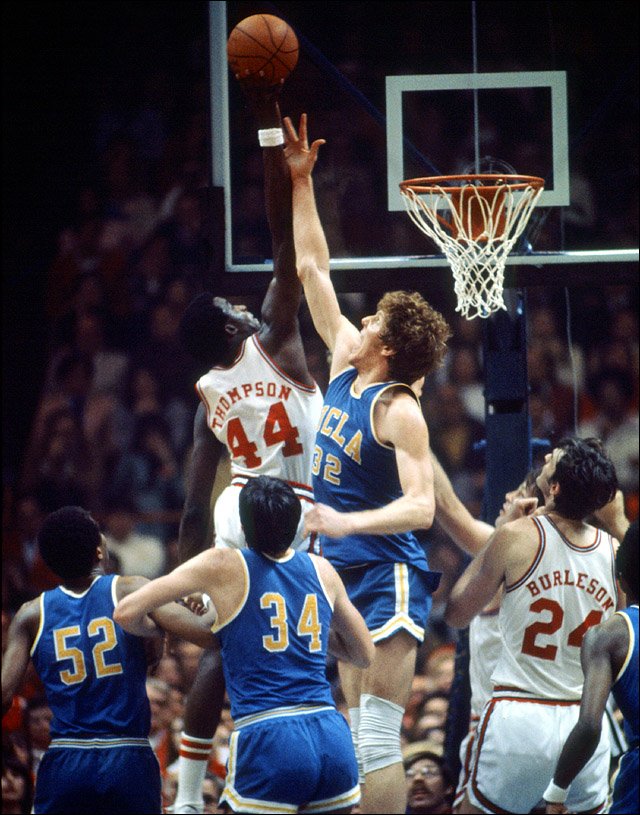 March 26, 1999
The UCLA center missed only one shot and scored 44 points, more than the rest of the Bruins put together, to beat Memphis State in 1973.
Bill Walton
still remembers the shot.
"It was a little, short gimmee right in front of the basket in the first half," the former UCLA star center said.
And he missed it.
Shucks. But it's hard to feel sorry for him. Other than that one,
Walton
was perfect.
In the biggest game of the season, the 1973 NCAA Tournament final against Memphis State,
Walton
made 21 of 22 field goals and finished with a championship-game record 44 points as the Bruins rolled to their seventh straight title 87-66.
"In my opinion, when
Bill
was healthy, he was about as good as any center who's ever played when you consider all areas of the game," UCLA coach
John Wooden
said.
But
Walton
has always bristled at the suggestion that his performance was the singularly most dominating in Final Four history.
Wooden
, after all, instilled the sense of team first and last.
"I get a lot of individual credit for that basketball game, but really that was
John Wooden
basketball," said
Walton
, now a NBA analyst for NBC. "Our guards, Greg Lee and Larry Hollyfield, combined for 23 assists. It wasn't like I was getting the ball and just going one-on-one. It was team basketball."
It only appeared he was a one-man gang to anyone watching, especially the Memphis State Tigers.
"
Bill
played every game with a high energy level," said Gene Bartow, then the Tigers coach, who would succeed
Wooden
at UCLA in 1976 and is now the athletic director at Alabama-Birmingham. "But in that game, it seemed to me that it was a higher level than he usually played. He was all over the place."
But
Walton
was close to being taxed physically before ever stepping foot on the court that night in St. Louis.
When the Bruins arrived at their Stouffer's Inn, they found rooms overlooking a noisy freeway that were furnished with small beds. That was a big problem for
Walton
, a 6-foot-11 junior.
After a hard-fought win against Indiana in the semifinals,
Walton
was desperate for a good night's sleep and turned to UCLA athletic director J.D. Morgan. He had a suite at the luxurious Chase-Park Plaza Hotel and gladly switched with
Walton
.
But in the wee hours before the title game,
Walton
was rousted from his comfortable bed by police. The hotel staff assumed Morgan had checked out and gave the suite to another guest.
"At 4 a.m. I was standing in the lobby with my school books and my luggage in hand without a place to stay,"
Walton
said.
Morgan straightened out the confusion and an embarrassed manager escorted
Walton
to the hotel's penthouse, which was adorned with a chandelier, several televisions and telephones and bowls of fruit and arrangements of flowers.
"I knew where I was go to sleep,"
Walton
said, "and where we were going to have the post-game party."
Working against some man-to-man and then zone when Tigers star Larry Kenon picked up three quick fouls,
Walton
moved along the baseline for constant lobs and easy shots.
He made 11 of 12 shots in the half, but UCLA led only 37-31 when he picked up his third foul. With
Walton
on the bench for the last 4:14 of the half, the Tigers tied the game 39-39.
But in the opening nine minutes of the second half, the Bruins outscored the Tigers 20-10.
Walton
had 14 of those points, not that the Bruins realized how flawless the all-American redhead had been so far.
"I played every game with him for two years, so him scoring baskets was not an oddity," recalled forward Larry Farmer, another former UCLA coach who is now the coach at Loyola of Chicago. "But I kind of got the feeling he was having a special game because I played on the opposite side and usually I would get two or three baskets a game tipping in misses. But there just weren't any."
During a Memphis State timeout, Lee even asked
Wooden
if maybe the Bruins couldn't run some other plays.
"Why?"
Wooden
answered. "I said, "As long as we could get the ball into him in a situation where he was getting it, there was no point to make any changes until they stopped it.' "
The Tigers never adjusted.
And the Bruins kept looking to
Walton
.
"We knew it was going to take an extraordinary performance for us to beat them and instead, he did just the opposite," said guard Larry Finch, who scored a team-high 29 points. "We might have beaten them if he had a plain day instead of extraordinary day."
Walton
, who sprained his left ankle and limped off to a standing ovation from the partisan Tiger crowd with 2:51 left, set an NCAA Final Four record with his 95.5 percent shooting. And it's not like all of his shots were lay-ins.
While Bartow said
Walton
got away with a few "near dunks," and four baskets were nullified when the officials ruled he had violated the rules by dunking, he added that a handful of shots were 12- to 15-foot jumpers.
"I guess it could have been worse," Bartow deadpanned. "He might have hit every one of them. He did miss somewhere along the line."
Not that Bartow can remember it.
Nor can
Wooden
.
"But I've teased him about it through the years, saying he should have made that one, too," he said.
No wonder
Walton
hasn't forgotten the one that went awry.
"I grabbed it and just stuck it back in,"
Walton
said. "But to this day, Coach
Wooden
tells me, "
Bill.
I used to think you were a good player until you missed that shot.' "
YOU SAY
Reader survey
1.
Bill Walton
, UCLA
2. Larry Bird, Indiana State
3. Lew Alcindor (Kareem Abdul-Jabbar), UCLA
4.
Jack
Givens, Kentucky
5. (three tied)
Christian Laettner, Duke
Danny Manning, Kansas
Michael Jordan, North Carolina
HONORABLE MENTION:
Magic Johnson, Michigan State
Grant Hill, Duke
David Thompson, North Carolina State
Oscar Robinson, Cincinnati
Bobby Hurley, Duke
WE SAY
Times Staff Writers
BEST PLAYER
1.
Bill Walton
, UCLA 1972, hit 21 of 22 shots in final against Memphis State.
2. Lew Alcindor, UCLA 1969, had 37 points, 20 rebounds in final against Purdue.
3. Danny Manning, Kansas 1988, carried Jayhawks to title, with 31 points, 18 rebounds, 5 steals in final against Oklahoma.
4. David Thompson, N.C. State 1974, carried Wolfpack past UCLA and Marquette with dazzling show, even when dunking was outlawed.
5. Magic Johnson, Michigan State 1979, compelling force against Indiana State.
THEY SAY
National panel of experts
PACKER:
1. Lew Alcindor, UCLA. "He won the Most Outstanding Player award all three years he was in the tournament. So he'd have to be the greatest Final Four player of all time."
2.
Bill Walton
, UCLA.
3.
Bill
Russell, San Francisco.
4. Danny Manning, Kansas.
5. Gail Goodrich, UCLA.
FEINSTEIN:
1. Lew Alcindor, UCLA: "He never lost a tournament game - never even came close to losing one - in three years."
2.
Bill
Russell, San Francisco.
3. Oscar Roberston, Cincinnati.
4.
Bill Walton
, UCLA.
5. Christian Laettner, Duke.
CARNESECCA:
Best Player
1. Lew Alcindor, UCLA. "Simply too much of everything."
2. Oscar Robertson, Cincinnati.
3. Patrick Ewing, Georgetown.
4.
Bill
Bradley, Princeton.
5. Chris Mullen, St.
John's.