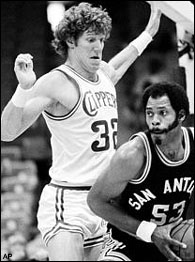 February

4, 1984
San Diego
Clippers
center Bill
Walton
is not on the trading block despite the fact the Los Angeles Lakers are interested in him, according to
Clippers
officials.
General Manager Paul Phipps told newsmen in Pontiac, Mich., Friday night that Lakers general manager Jerry West had sounded him out about the 31-year-old
Walton
at the NBA All-Star game last Sunday.
''I told him we have no plans to trade Bill,'' said Phipps. ''First of all, Bill has a no-trade clause in his contract, and secondly, it would take an unbelievable offer for us to even listen.''
The often-injured
Walton
is in his 10th NBA season and has been playing as a reserve while a broken bone in his hand heals.
Phipps did not reveal who West proposed to give the
Clippers,
but did say Dallas had offered forward Jay Vincent in exchange for
Walton.
''When you win 15 games, everyone thinks you are ready to trade,'' said Phipps, whose team ran it's record to 15-31 with a loss to Detroit Friday night. ''A lot of teams are going to be calling, but it won't do any good. We're not giving him up.''
The league trading deadline is Feb. 15.
The Lakers would like to have
Walton
backing up Kareem Abdul-Jabbar in the stretch drive. His presence would bolster their defense and improve their rebounding.
The lowly
Clippers
need help just about everywhere, but have looked respectable during the infrequent stretches when
Walton
is healthy.