C Jason Collins (34)
What we know: Collins is Atlanta's most effective deterrent against Magic center Dwight Howard. He slowed Howard enough in the playoffs last season to allow his teammates to hold down the rest of the Magic.
LINK
But a big reason the Hawks have had some success is they've beaten up Dwight Howard, utilizing the Bruise Brothers defense of Jason Collins and Zaza Pachulia.
LINK
The Hawks have frustrated Orlando strongman Dwight Howard in the four meetings this season, using bulky Jason Collins to make him uncomfortable in the paint.
LINK
That's where the Hawks planted 7-foot center Jason Collins against All-Star Dwight Howard for each of four meetings this season. And each time Collins provided enough resistance against Howard that teammates didn't have to constantly scramble to help. Collins did it again Wednesday night at Philips Arena, helping the Hawks defeat Orlando 85-82 to win the season series 3-1.
In the playoffs last season, Howard averaged 21 points while making 27 of 32 field-goal attempts. The Hawks' defense against Howard also allowed the Magic to spread the floor for open 3-pointers. With Collins providing resistance Wednesday, Howard never could find an offensive rhythm. He made only four of 13 field goals, and foul trouble limited his defensive aggressiveness for much of the game. "It all started with Jason Collins," Drew said. "I thought he just did a phenomenal job of staying between Dwight and the basket, making him earn everything down low."
LINK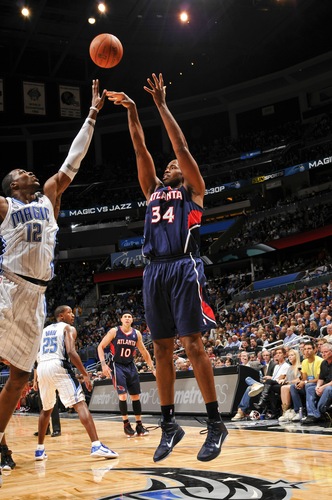 Here we go again. The Hawks get another crack at the Magic after being swept by them in the second round last year, which cost coach Mike Woodson his job. Larry Drew hasn't done much different, but the Hawks did play well against Orlando this season and Jason Collins, of all people, proved to be a frustrating defender for Dwight Howard.
Boston Globe (MA)
April 16, 2011