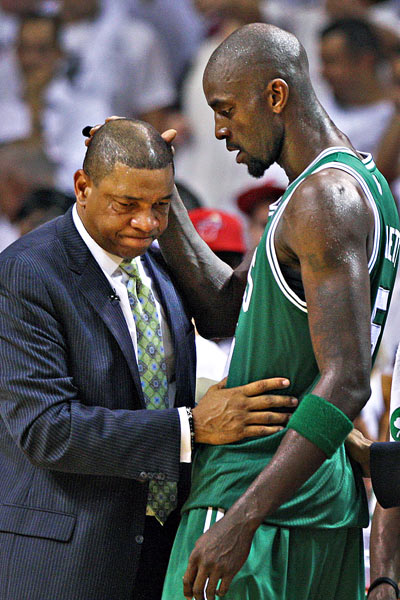 If you are like me (and I think we know at least
one blogger
who is like me), seeing Kevin Garnett in a Boston Celtics' uniform never gets old. Watching the Ticket play in Boston has been nothing less than one of the great privileges of my almost 40 years of Celtics fanhood. But the more you think about it, the more difficult it becomes to separate the Garnett Era from the Doc Rivers Era.
I know. I know.
Doc "sucked" before Garnett arrived.
That may be your opinion, and at some level, no doubt, it is true.
But coaching Gerald Green and Sebastian Telfair is a little different than coaching the teams Doc has coached over the last five years. More importantly, Celtics' fans have bonded with Doc much like they have bonded with the Ticket. The "She Loves You" Era of the Early Beatles has long since been forgiven and forgotten.
And the more we ponder these two men, the more we see what they have in common.
Kevin Garnett has one passion in this world, winning.
Ditto for Doc.
Kevin Garnett wears his passion on his sleeve.
Ditto for Doc, though he'd like us to think that he has better control of his emotions.
Both men bleed green, and will forever be remembered as Celtics, despite lengthy and memorable careers BB (Before Boston).
Last but not least, both men were, are, and will always be marketing tools for Danny as long as they remain in Boston. Does anyone doubt Danny's first two bullet points when selling Beantown to a free-agent are (1) You get to play with Kevin Garnett; (2) You get to play for Doc Rivers.
What else does anyone need to know?
Come to think of it, Ainge sometimes sends Doc or Kevin to do his free-agent wooing for him.
So as we inch closer to what might be a White Album of a season for the Green, let us appreciate and acknowledge what we already know:
The Boston Celtics are the Boston Celtics again largely because of these two men.