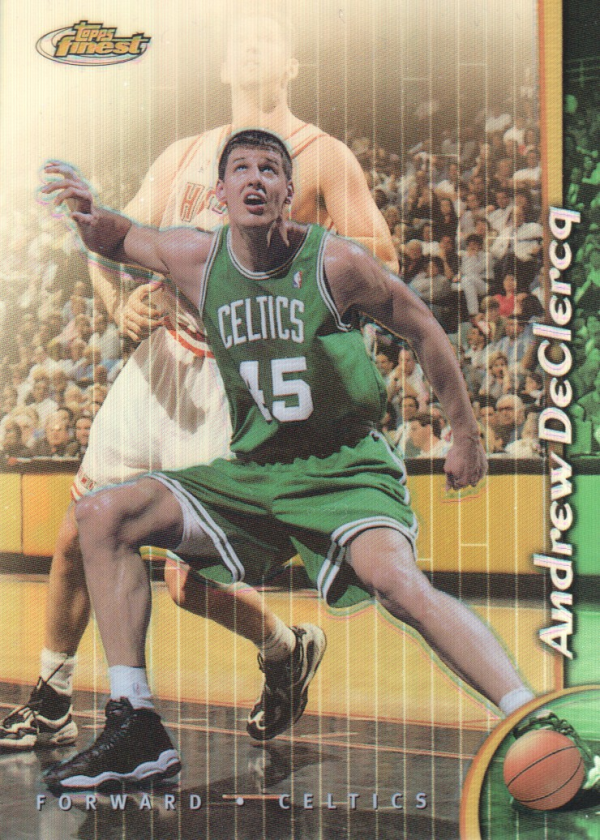 January 31, 1999
Pitino will Rotate Schintzius, Battie, DeClercq, and Riley at the 5
WALTHAM - The Celtics have players with sore toes, sore ankles, and sore wrists. Yesterday they got a player with a very sore nose. So sore, in fact, that it may be broken.
Dwayne Schintzius took an accidental elbow during an afternoon practice at Brandeis. Before leaving for X-rays, Schintzius saw Rick Pitino. The coach was holding out hope that Schintzius's nose was just severely bruised.
"I don't know, Coach," Schintzius said. "I think it's broken."
The Celtics are hoping the 7-foot-3-inch Schintzius can give them a defensive presence at center. They haven't had one the last couple of seasons. As a result, even the league's average centers (see Bryant Reeves, 40 points) have hurt the Celtics inside.
If Schintzius's nose is indeed broken and he is sidelined, recently signed Eric Riley will be the team's only healthy center. Andrew DeClercq played in Friday's exhibition game against the Raptors, but he is bothered by a sore wrist. And while the 6-11 Tony Battie started at center Friday, he is a natural power forward.
Pitino is a Bronco booster
It is already public knowledge that the head coaches in today's Super Bowl, Mike Shanahan and Dan Reeves, do not get along so well. But Shanahan has a fan in Boston. Pitino and Shanahan became friendly a few years ago. That's when the University of Kentucky wanted Shanahan to be its head football coach. "He's a wonderful man," Pitino said. If Pitino were to watch the game with Celtics associate head coach Jim O'Brien, it would be interesting. O'Brien has a reason to root for the Falcons: He spent time at the University of Oregon with Rich Brooks, who is now the Falcons' defensive coordinator . . . Ron Mercer attempted two 3-pointers against Toronto. The fact that Mercer missed both is not relevant. This is: He took them. That probably wouldn't have happened last season, when Mercer would not venture more than 17 or 18 feet from the basket. "That was one of the things I wanted to work on during the summer," Mercer said. No one ever questioned his ability to make mid-range jumpers. Now he is trying to become a threat from 20 feet and beyond. Mercer said there was no special drill to improve his range. "Just practice," he said.
Make way for another Willard?
Word is that University of Pittsburgh coach Ralph Willard, a friend of Pitino's, will join the Celtics at the end of the season. The only problem with that scenario is that the Celtics are already overstaffed; Willard's son, Kevin, is a coaching assistant with Boston . . . Paul Pierce had five steals Friday, leading many people to comment on his defense. It was mentioned to the rookie that he did not leave college with a reputation as a defensive player. "Neither did Michael Jordan," he replied, "and he turned himself into a great defensive player." . . . More Pierce lore: During the summer, he shocked many NBA types during one of his shooting drills in Los Angeles. The story is that he made more than 20 shots in a row from various angles without stopping for a break . . . Pitino said he is impressed with Antoine Walker's shot selection. The coach said the Celtics are trying to get Walker to play like a young Adrian Dantley, who set up 15 feet from the basket and then attacked. Walker also was singled out by Pitino for hitting the floor to chase after a loose ball Friday night . . . Would-be Celtic Michael Stewart fouled at a rate of roughly one every 2 minutes Friday. He rebounded at the same rate. He finished with 5 points, 4 rebounds, and 4 fouls in nine minutes . . . The Celtics believe Riley can become a good player. They like the 7-footer's skills and would like to have some time with him in the weight room.