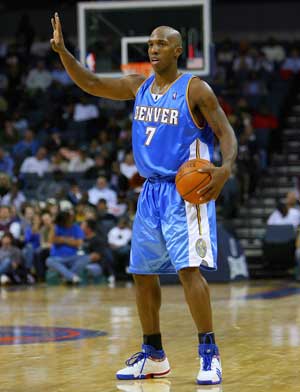 March

6, 1999
Billups never got his shot
Chauncey Billups returned to the FleetCenter last night. He did not play for the Nuggets because of a sprained left ankle. But had he played, he would have started at shooting guard. If someone could have whispered that to the entire
Celtics
drafting contingent in the summer of 1997, Billups never would have been taken with the third overall pick.
This is what happened in the days leading up to that draft: Some in the organization were convinced that Billups would be a fine pro point guard. But Rick Pitino saw Billups play in high school and thought he would be better suited at shooting guard. Pitino listened to his staff and drafted Billups after San Antonio had taken Tim Duncan and Philadelphia selected Keith Van Horn.
Most
Celtic
fans know the rest of the story. Billups had some fine moments with the team as a point man, but he was more comfortable at shooting guard. He was traded to Toronto in the Kenny Anderson deal. The Pitinos certainly didn't forget Billups. Pitino has said that Billups is one of his favorite people. The same goes for the coach's son, Richard, who chatted with Billups before last night's game.
Piercing comments
Paul Pierce was given a technical foul in the first quarter. Official Mike Mathis explained why to Pitino: "Pierce is taunting the hell out of Eric Williams." . . . Billups, by the way, has shaved his head. "It was time for me to clean it up," he said. . . . Former
Celtics
general manager Jan Volk attended the game. He is a Nuggets consultant . . . Ron Mercer didn't have to wear a bulky brace on his right knee for last night's game. Instead he wore a thin sleeve. Maybe it was coincidental that he looked more aggressive than he has at any time this season, scoring 19 points in his first 14 minutes . . . Billups was not the only player going against a familiar team. Tony Battie was drafted by the Nuggets in '97, traded to the Lakers in '98, and acquired by the
Celtics
in '99. Before he became the team's GM, Dan Issel referred to Battie as "El Busto." Issel did not attend last night's game. Williams was traded from the
Celtics
to the Nuggets in the summer of '97 . . . Antoine Walker almost made a terrific second-quarter play: He passed through Eric Washington's legs to Pierce, who was cutting to the basket. Pierce didn't make the shot, but he was fouled.
Shirt off his back
Mathis was wearing a two-year-old uniform. It had the NBA's 50th anniversary logo on one sleeve. Mathis was not being nostalgic. He had an equipment bag stolen and his regular shirts were in it . . . Walker had 21 points and attempted 26 field goals, but he didn't have any free throw attempts . . . The Nuggets were playing their third game in four days. They arrived in Boston from Miami at 3 a.m. yesterday . . . Popeye Jones brought his three sons into the
Celtics
locker room after the game. The boys all wore No. 34 Pierce jerseys. "What am I supposed to do? He's their favorite player," Jones said. Pierce autographed the jerseys of his young fans . . . Keon Clark, whom the
Celtics
considered drafting, had 6 points, 9 rebounds, and one ferocious rebound-dunk. He also represented the bulk of Denver's bench scoring. Without his 6 points, the Nuggets would have had 2 points.