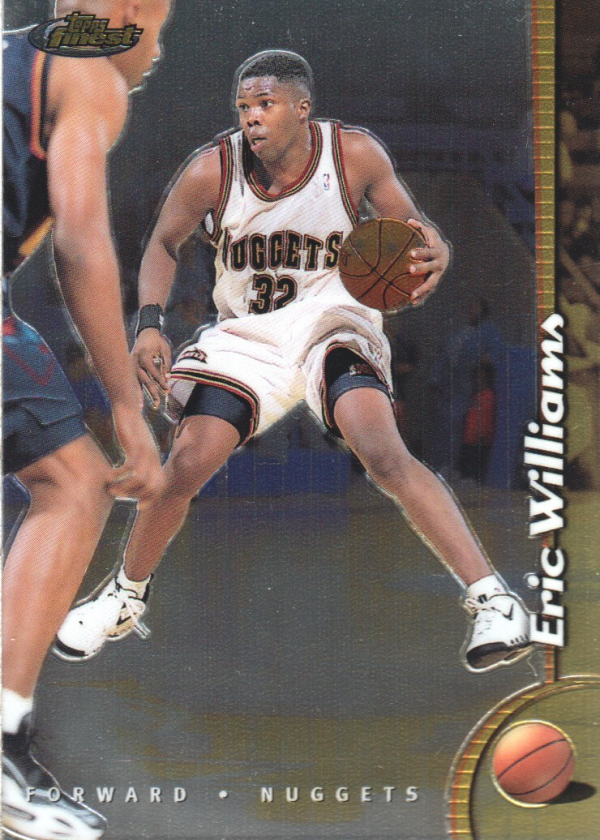 March

6, 1999
Return to sender
It's almost like he was hardly ever here. He might as well be Brett Szabo or Nate Driggers or anyone else from that appalling cast of 1996-97.
Eric Williams got mild, polite applause last night when he was introduced as the starting small forward for the Denver Nuggets. It was his first game in the FleetCenter wearing anything other than green and white.
It wasn't that long ago that he was starting here, playing well, valued highly, and seemed as solid at his position as anyone on the team. Then, on one, hot August night in 1997, it was over in a flash. He was traded, very abruptly, to Denver for two second-round draft picks. The
Celtics
then signed Chris Mills, who lasted two months with the team.
Williams never got a chance to play for Rick Pitino, primarily because he thought that the way an NBA team was run was the way that M.L. Carr ran the
Celtics.
He missed some conditioning appointments and that's a third strike in Pitino's justice system. Pitino even went so far last year as to say, unequivocally, that, "Eric Williams could never have played for me."
Now that Paul Pierce apparently has a stranglehold on the so-called "3" spot, it's easier to forget and even dismiss Williams. It became even more so when, after only four games with the Nuggets last season, he tore the anterior cruciate ligament in his right knee and missed the rest of the season.
But he and Antoine Walker worked very well together, and even Pitino, for a time, would have nothing to do with anyone wanting a piece of the guy. That's why Williams is still a bit stunned by the deal, 19 months after the fact. He wanted to play for Pitino. He went to Atlanta with some summer league wannabes and was the undisputed star. Then he got the news while attending a movie (called, "How To Be A Player") when his pager went off.
"I don't remember what happened in the movie after that," he said. "It was a perfect situation for me at the time. I was really disappointed. It was my first time through that. I can remember in high school and in college when I thought about someone being traded, it was that he wasn't wanted. I went through a stage like that."
He didn't specifically address Pitino's charges of missed workouts, but in an interview prior to last season, Williams did.
"We just missed each other," he said. "But I thought we were behind that. I thought it was resolved. If he was upset, why didn't he say it to my face? I don't appreciate that."
But he's well beyond that now. He signed a $33 million contract extension just before hurting his knee. He had 20 points and seven rebounds in last night's 102-94 loss to the
Celtics,
going up against Pierce and exchanging trash with old buddy Walker.
"Oh yeah, we talked a lot out there," Williams said. "We're good friends. But we'll both dive for a loose ball."
Walker said, "I kept telling him that the rook [ Pierce] was going to bust him. I think that made him try extra hard. But it was good to see that he's doing well. He almost looked like his old self out there. We complemented each very well when he was here, but he seems happy where he is. I'll always wish the best for him."
(Pierce, it should be known, got a technical for what referee Mike Mathis said was "taunting the hell" out of Williams. Pierce had 17 points.)
Looking like the old Williams is something the new Williams wants very, very badly. The old Williams had a great post-up game, got to the line, and defended well, especially on the perimeter. The new Williams still gets to the line (15 attempts last night), but overall, isn't quite there yet. He does look terrific, weighing 225 pounds with no noticeable extra girth.
"I had a lot of time to do the rehab," he shrugged. "I didn't want to come back and have that knock on me, that I didn't have a good work ethic. Know what I mean? That's always been one of my positive sides, that I always work hard every time I'm out there, on or off the court. I feel I can deal with any type of adversity now."
Well, there is his new team. No one thought he'd leave a 15-win team in Boston and go downhill, but the 1997-98 Nuggets won 11 games. This year's team is better - how can it be worse? - but already has lost rookie Raef LaFrentz to, yup, a torn ACL. Williams has the kid on his screen.
"All night long," he said. "I'll be there. I know it's going to be difficult for him, especially this being his first year. He was going through the same pattern I was when I went down. But he sees me, he knows he can get through it."