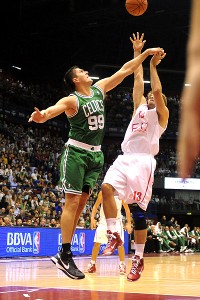 "It's great being around these guys, it's team spirit," said Milicic. "The guys are great, trying to make me feel good from the first day that I came here. [It's a] championship team, you can feel it from the first day. ... I'm just here to play basketball. We're all here for one reason: to win a championship."
Later Milicic added: "From the first day, I could feel a championship spirit. Everyone wants to win. And from the first day they tried to make me feel like I'm home. Great, great, great group of guys. Since Detroit, I haven't played with guys who want to win this much, and they're all in, 100 percent, as a team. So, it's great playing with these guys. Playing with these guys, you get a confidence. When you play on some [expletive]-up team, you don't get it." Milicic was likely referring to Minnesota.
LINK
I think Darko may have been getting a little more personal with that comment than just airing a complaint about the Minnesota Timberwolves in general.
I'm pretty sure that comment was directed at Rick Adelman, since we know Darko was thriving in Minnesota the year before under Kurt Rambis. I've never been an Adelman fan. But we have heard Darko's side (see notes section
here
) of what happened last year:
"They [the Timberwolves] thought it was my mistake in getting in trouble with the coach. I don't really feel that it was all my mistake,'' he said. "We didn't have any communication. Things I find out, I find out in the newspaper and the media. I find out I'm not going to start. I find out I might not play. I find out I'm not in good shape. I think we are grown men. We should talk. And we didn't
."
Other media outlets have described Adelman's approach
a little bit more bluntly
.
Again, Adelman can coach however he wants to.
Thankfully, that's not the way Doc runs his teams.