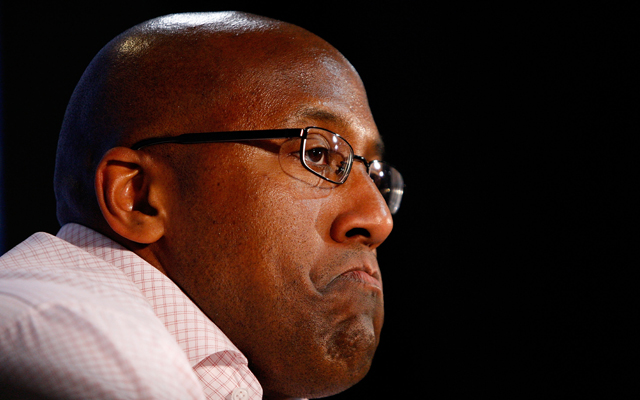 God must not appreciate me gloating.
When I started blogging about how bad the Lakers were going to be earlier in the year, they acquired Steve Nash the next day. When I said no big deal, Steve Nash can't play defense and will only make them worse, they acquire Dwight Howard. Today I start funnin' on Mitch Kupchak and Mike Brown, and the Lake Show cans the Coach I was just starting to love.
Why hath though foresaken me?
Mike Brown was never in a position to succeed -- and then struggled -- and then got fired. (Getty Images)

If Mike Brown's coaching tenure in Los Angeles was a Modest Mouse album, it would be We Were Dead Before the Ship Even Sank.

Not to be too morbid about it, but Brown's chances were doomed from the start. And on Friday, those chances were shockingly, but mercifully, put to an early end as the Lakers fired him as coach.

As the sports world immediately turns to who will take over the good ship Forum Blue and Gold, there will be little more consideration for Brown than a simple "look at the results" and some dismissive comments. But if we want to understand how this happened, how a team that was expected to win in the high 60s (and still very well could based on talent) could bottom out, leading to Brown's firing, we need to examine some things.

And we need to understand: This was always how it was going to happen.

Replacing a legend in coaching and surviving is nearly impossible. Go back through the history of sports and find how the guy coming in after the hero did. Fans have expectations, they have standards, and those are often even higher than reality. It's the effect championships have. Phil Jackson was rarely if ever discussed as the coach who wouldn't take timeouts for in-game adjustments or the coach who too often ignored what was going on on the floor, or the coach who would turn to zen phrasings instead of tactical adjustments. Because, he won six rings, what did he need to know?

And Brown followed into a pretty nasty situation. With a roster already depleted and aging, coming off an embarrassing second-round sweep by the Mavericks, he was tasked with replacing maybe the best coach in NBA history.

But at least there weren't other distractions.

Oh, wait.

Brown took over the team in the midst of the lockout. He was deprived of a full training camp and burdened with a terrible, exhausting schedule, especially for a first-year head coach for an aging team.

Did I mention Lamar Odom and Derek Fisher were traded during the year?

These things aren't to excuse the performance; we'll get there in a minute. But it's to provide an understanding of what happened in Los Angeles. Brown entered an impossible situation under unfavorable circumstances and things got worse. So, no, we shouldn't be surprised at his epic crash and burn.

But if you want to trace this back before the lockout? Kobe Bryant was never advised on Brown's hiring. The players' preference of Brian Shaw was ignored. How is that going to work with a coach with zero championships coming into a team that won back-to-back titles?

Bryant made a painfully transparent effort to try to buy in. He talked just this week about being Brown's staunch advocate. But the question when things never clicked, when the success wasn't what he was used to, was if he could really be considered on board. Whoever the Lakers hire next should call Bryant to make sure he's on board before he or she accepts the job.

But these were all factors before the teams took the floor. And if the 2011-12 campaign was a lackluster, "meh" kind of year for the NBA's flagship franchise, then the start of the 2012-13 campaign was wretched. Brown's gamble to institute the Princeton offense as a way to provide balance to their wide array of starpower backfired immensely, as no one was able to really establish themselves, and the design took the ball out of Steve Nash's hands. It was a bold move, and it failed.

In reality, with a team with this much starpower in its first season, you don't want anything complex. You want to rely on instincts and abilities, let the players sort out how they fit and build an offense organically around that. Brown gambled that, to make everyone fit, he needed a system. That might have been what did him in.

But consider, too, that Brown was hired for his defensive acumen, and the Lakers' defense, especially since the trade deadline last year when they acquired Ramon Sessions and traded Fisher, has been bad. They are 23rd this season in defensive rating (points per 100 possessions), and that's with three-time Defensive Player of the Year Dwight Howard. The Lakers' defense wasn't struggling, it was bad.

So you hire a coach without consulting Bryant -- a coach who came in and who was following the Zenmaster and his 11 rings after a lockout. The tream trades two core members of the locker room, then shuffles the roster with a bunch of new pieces, then tries to cram in a system (Princeton) that is not a natural fit for the talent on that new roster. Throw in some bad performances and the most dramatic team in sports with the highest of standards, and here we are.

Brown will join the list of coaches who never lived up to Lakers' fans expectations, and will inevitably resurface. What's weird is that Brown likely would have thrived in a place like Charlotte, with lower expectations and in need of stability and defense, under less media scrutiny.

But Los Angeles is not that place, the Lakers are not that team. And neither belong to Mike Brown any longer.
Tags: Dwight Howard, Kobe Bryant, Steve Nash, Los Angeles Lakers, NBA